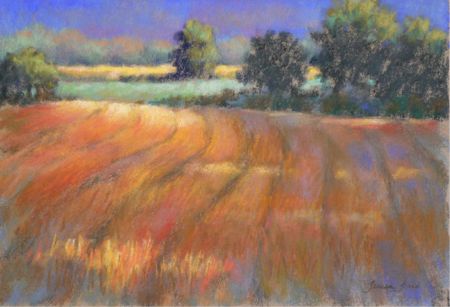 The most convenient way to view Teresa's work is to visit one of the galleries or exhibits listed on the Exhibits page. In most cases, there will be someone on hand to help you with your selection. Shipping can be arranged if you live outside of the area.
In addition, collectors are invited to schedule an appointment to meet Teresa at her studio outside Ann Arbor, Michigan to preview work in progress: studio@teresafreed.com
Teresa's landscape paintings range in price from $125 for 'minis' (3" x 5" treasures, great for intimate spaces) to $1600 for a painting large enough to command a room. The majority of her pieces fall in the $400 - $1000 range.
Several of the paintings found at this website have already been sold, but you're welcome to inquire about anything you see by emailing: studio@teresafreed.com. You're also welcome to inquire about commissioning a landscape that represents a particular mood or location.
Portrait Commissions
Teresa accepts commissions for human and animal portraits. She is able to produce portraits from good photographs, live sittings, or both, and will be happy to work with you to devise the best approach for your situation.
If it is determined that working from photographs is the way to proceed, she prefers to meet the 'subject' and take her own photos. This allows her to incorporate the subject's personality into the painting. However, Teresa has produced very successful paintings from photos that are provided by the client.
Commissioned portraits are, by nature, a collaborative process. The initial interview will establish variables like the size of the finished painting, subject matter, framing and cost. You will be asked to preview and give feedback on the painting while it's in process, and to approve it upon completion.
Portrait pricing will depend on the size of the painting, the number of subjects, the background, and framing. Teresa's commissioned portraits start at $500, unframed. She will provide you with a final price at the time that you agree on the design of the painting. A non-refundable deposit of a percentage of the total price will be collected at this time. The balance will be due upon approval and delivery of the painting. Of course, any travel expenses that Teresa encounters in order to work with you will be included in the price.

Pricing for landscapes and other paintings vary so greatly that she'll need to speak with you before she can give you a price estimate on a commissioned piece.

To inquire about commissioning a painting please email:
Please include your phone number and the best time to reach you.